Friday, August 30, 2013
Easy Barbeque Chicken Pizza

2 words: Laundry. Day.
Oh laaawwwdy do I LOATHE laundry day! Any other laundry haters out there? Yah, high five sister… I am SO with ya!
Anyhow, when laundry day rolls around, it ends up being an all day event. Wash, Dry, Fold – Wash, Dry, Fold – Wash, Dry, Fold… REPEAT
Eeek I'm cringing just thinking about it. Then as if THAT wasn't enough, you have to put it all away afterward. And for me, that's the worst part! Now, before you go telling me to break up the laundry and do a load each day to spread out the "love"… been there, tried that! That just makes me loathe chore time EVERY day instead of only 1 day a week! hah Not my thing.
So, what exactly does this have to do with Easy BBQ Chicken Pizza? Stick with me… I have a point here!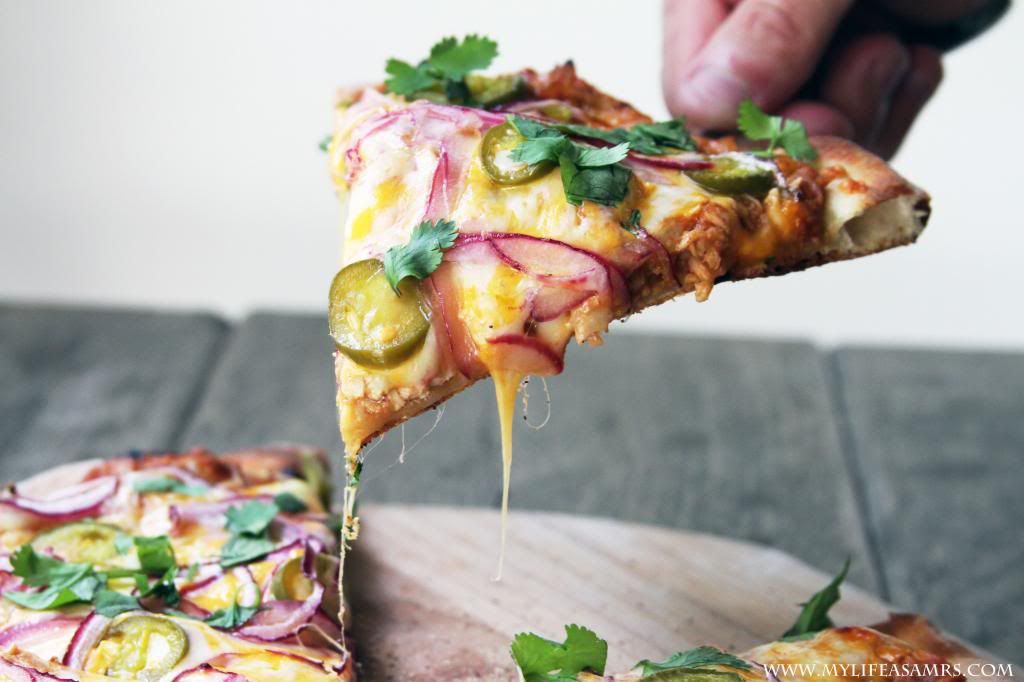 Sometimes we just need some shortcuts in life.
And on laundry day, my dinners take advantage of those aforementioned shortcuts (see I told ya I was going somewhere with this!).
Well this week on L-Day I decided to go the pizza route. Why? Well hubs' favorite food group these days seems to be pizza. Pretty much every time I ask him what he wants for dinner, he exclaims, "PIZZA!!!" (with the occasional burger thrown in there). So easy to please I tell you.
My stomach was a  little off and I just wasn't really feeling ANYTHING (baby girl is so picky sometimes!) so I decided to just cook something that I knew hubs would LOVE! He absolutely adores the sweet and savory combo (I personally prefer a full-on savory pizza, but that's just me!). At restaurants he loves to order Hawaiian Pizza (Bacon & Pineapple) or BBQ Chicken Pizza.
I walked through the grocery store and found the pizza dough on BOGO (Score! Shortcut #1), grabbed a Rotisserie Chicken (Shortcut #2), and bottle of sweet and smokey BBQ Sauce (Shortcut #3) and the remaining few ingredients and off I went to whip up dinner!
Seriously this is a CINCH to throw together with the use of these 3 shortcut ingredients! Sure you could grill & BBQ your chicken and chop it up… but NOT on laundry day, ya'll! Rotisserie Chicken gets the job done.
And you know what? Hubs LOVED it! He had no idea it took mere minutes to whip up!
Give the man a side of Ranch dressing and he'll silently scarf down 3 slices (giving me the opportunity to take power over the remote control! WINNING!)!
Reminder: Don't forget to enter the America's Test Kitchen Cookbook Giveaway before midnight tonight!!!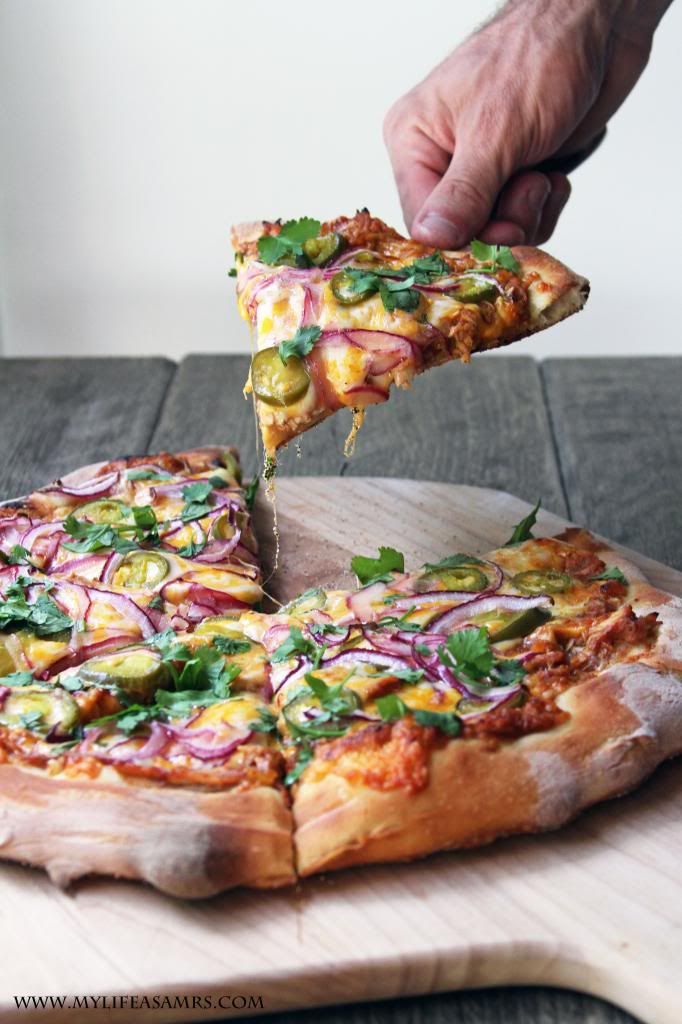 Easy Barbeque Chicken Pizza

Yield: 3-4 servings

Prep Time: 15 minutes

Cook Time: 15-20 minutes

Total Time: 30-35 minutes

Make this pizza as sweet or as spicy as you like by choosing a BBQ sauce accordingly! Some sauces have more brown sugar and molasses and make for a sweet pizza and some have more of a smokey heat from cayenne and paprika which make for a more savory pizza.

Ingredients:

1 store bought ball of pizza dough (found in bakery section)
1 1/2 cups shredded rotisserie chicken
3/4 cup BBQ Sauce (pick your favorite)
8 ounces Colby Jack Cheese, shredded
1/2 cup of super finely sliced red onion
1/4-1/2 cup Pickled jalapenos
1-2 tablespoons chopped fresh cilantro

Directions:

Preheat oven to 450ºF (if you have a pizza stone, preheat the oven with the pizza stone in the oven).

Mix shredded chicken with BBQ sauce of choice. Set aside until ready to use.

Lightly flour a clean surface and roll the dough out nice and thin (about 1/4"). I like to par-cook my crust before adding the toppings (it makes for a crispier finished product!). To do so: lightly dust the preheated pizza stone with a little cornmeal and then immediately place the dough on it. Poke the top of the dough with a fork (it will bubble up if you don't) and allow it to cook for 2-3 minutes; just enough to make the dough "set" and begin to cook through but not brown at all. Remove the crust from the oven with a pizza peel and add toppings: spread the Shredded BBQ chicken mixture evenly across the crust, sprinkle evenly with shredded cheese, add a layer of thinly sliced onions, and Sprinkle jalapenos on top (add more or less depending on your spice preference). Gently place back in the oven and bake until golden and bubbly (8-12 minutes) - keep an eye on it after 6 minutes or so as oven temperatures/altitudes vary cook time.

Allow to cool for 3-4 minutes before slicing and serving. Sprinkle on fresh chopped cilantro just before serving.

Note: hubs loves his with a side of Ranch Dressing for dipping.