Wednesday, August 28, 2013
Easy Chocolate-Nut Torte & an America's Test Kitchen Cookbook Giveaway!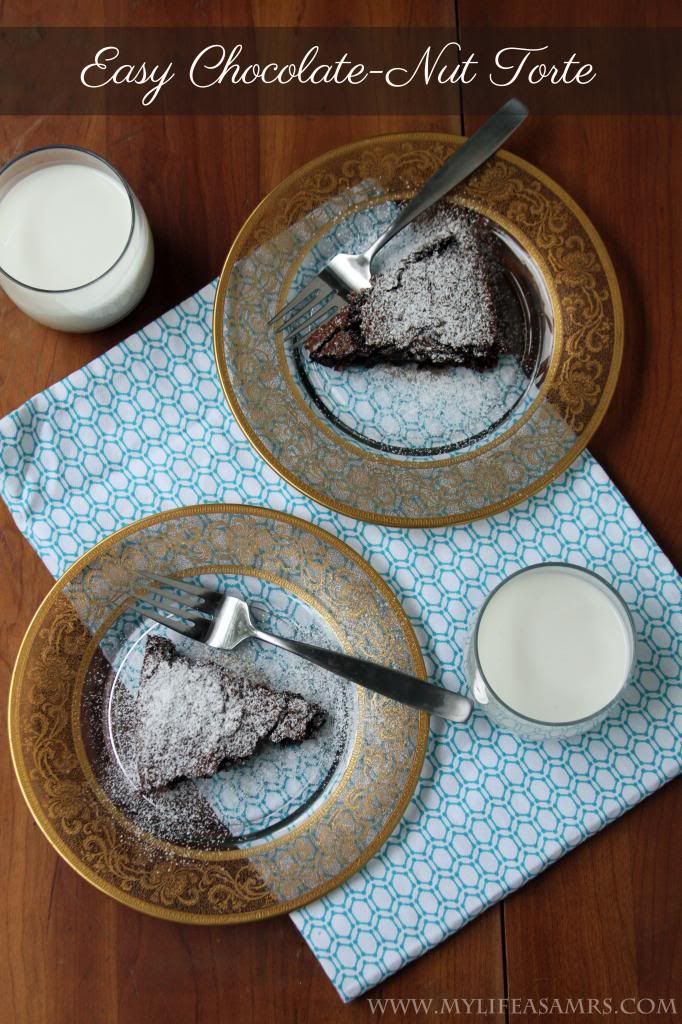 America's Test Kitchen came out with a new fabulous cookbook: 6 Ingredient Solution! Yes, a FULL cookbook of recipes using only 6 ingredients each! Can we say this is the ultimate easy recipe cookbook??! Yes, I think we can! 🙂
If you know anything about America's Test Kitchen, you know that they put out the best of the best recipes – all tested and tried different ways to get the perfect method of cooking or baking whatever it is! So if they put out a book of 6 ingredient recipes, you KNOW they will be the best 6 ingredient recipes you've ever tried!
Ya'll know I'm not a big baker (so many ingredients and SO scientific) so when I received my book in the mail, I flipped straight to the back to the dessert section! I decided to put the 6 ingredient Chocolate-Nut torte to the test.

It turned out fabulously. Chocolatey, nutty, and with an incredible texture.
I served mine up with a scoop of vanilla ice cream and hubs was a happy happy man! 🙂
Now, how can I talk about this new book without offering 1 to you guys?? That would be just rude now, wouldn't it? Well lucky for you, America's Test Kitchen has offered up 1 book for me to giveaway to one lucky winner!!!! How do you enter? Scroll down (past the recipe) and enter by using the Rafflecopter widget.
GOOD LUCK!

Disclaimer: I was not compensated for this post. America's Test Kitchen provided me with a copy of the cookbook, however the opinions of this product are my own.
Easy Chocolate-Nut Torte

Yield: 10-12 servings

Prep Time: 10-15 minutes

Cook Time: 35-45 minutes

Total Time: 45-60 minutes

An easy 6 ingredient dessert for chocolate and nut lovers!

Ingredients:

3 cups toasted pecans (or walnuts)
6 tablespoons unsalted butter, melted and cooled slightly
1/3 cup whole milk
1 large egg
1 box brownie mix (Ghirardelli Chocolate Supreme is recommended)
Confectioners Sugar, for dusting

Directions:

Preheat oven to 325ºF. Prepare a 9" round cake pan by spraying with non-stick cooking spray and lining the bottom with parchment paper. Set aside until batter is ready.

In a food processor, chop nuts until finely ground (about 15 seconds).

Whisk together melted butter, milk, and egg in a large bowl until well combined. Stir in nuts and brownie mix until fully incorporated. Scrape batter into prepared cake pan and spread into an even layer, smoothing out the top. Tap gently on the counter to release any air bubbles.

Bake for 35-45 minutes (rotating halfway through), until a toothpick inserted in the center comes out with a few moist crumbs. Remove from oven and allow torte to cool in pan for 10 minutes. Run a sharp knife around the edge of torte to loosen, then flip out onto a cooling rack, peel off parchment paper, then flip right side up onto serving platter. Dust with confectioners sugar just before serving. Serve warm with whipped cream or a scoop of vanilla ice cream or at room temperature.
GIVEAWAY OPEN UNTIL MIDNIGHT FRIDAY/SATURDAY!