Tuesday, September 3, 2013
Garlic & Caramelized Onion Focaccia Bread

This. bread.
I mean, I'm seriously at a loss for words ya'll!
I made this bread with the intention of using it as the base for my grown up grilled cheese with Oven-Roasted Tomatoes (Recipe coming tomorrow – you DON'T want to miss it!). However, what I didn't expect was how daggum good  it would be all by itself!
I mean like crazy good… as in hubs refers to it as "Crack bread".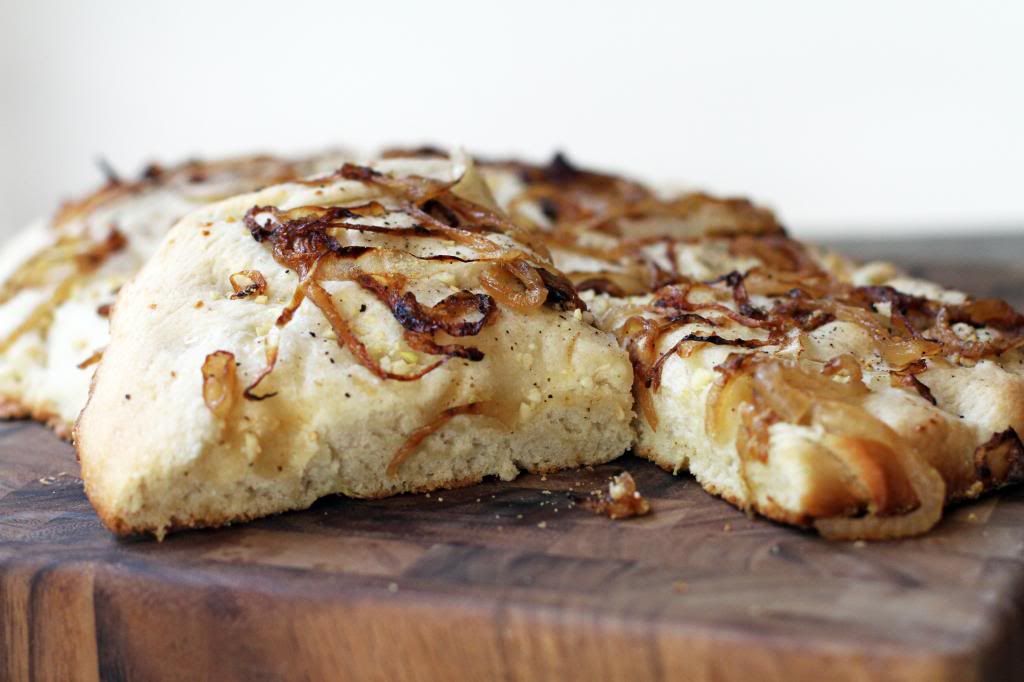 It started with me tasting a little corner of one piece. Then hubs tasting another little piece. Then back and forth we went.
Before we knew it, 2 whole slices went missing as we not-so-patiently waited for the oven roasted tomatoes to finish roasting.
Ridiculous.
The base of this bread was actually SUPER simple to throw together and doesn't require an overnight rise as most Focaccia breads do. This may be my new go-to dinner bread! I'm sure it would go fabulously alongside ANY dish.
I can't wait to experiment with different toppings: Pesto, or mixed cheeses, Fresh rosemary and garlic… the possibilities are endless!
Don't forget to come back tomorrow so I can tell you all about what I did with this bread!

Garlic & Caramelized Onion Focaccia Bread

Yield: 6-12 servings

Prep Time: 20 minutes of active prep (75 minutes of rise time)

Cook Time: 35-45 minutes

Total Time: 2 1/2 hours

Makes 6 servings if using as sandwich bread, or 12 if serving as bread alongside of a main dish.

Ingredients:

1 packet rapid-rise dry yeast (2 1/4 teaspoons)
1 cup warm water
2 tablespoons sugar
3 1/2 to 4 cups all purpose flour
1 tablespoon salt
2 tablespoons warm water
1/4 cup olive oil
1/2-1 teaspoon cornmeal, for dusting

1 small yellow onion thinly sliced
2 teaspoons olive oil
2 cloves garlic, minced
salt & pepper

Directions:

In the bowl of a stand mixer fitted with the dough hook, combine the yeast with 1 cup warm water and sugar. Gently stir to dissolve and allow to stand for 5-10 minutes until it foams. With mixer on low, slowly add 2 cups of the flour to the bowl.

Dissolve salt in the 2 tablespoons of warm water and add to the dough mixture. Add the 1/4 cup olive oil as well. Continue to add an additional 1 1/2-2 cups of flour (I only needed the 1 1/2 cups). When the dough begins to come together, you can increase the mixer speed to medium. If needed, stop the mixer and scrap the dough off the sides. Continue mixing until the dough is a uniform ball and is smooth and elastic (5-10 minutes), adding flour as needed. Note: you don't want the dough to become too dry; if it becomes dry and hard from adding too much flour you can add a splash of olive oil and/or water until elastic and smooth once again.

Turn the dough out onto a clean work surface and fold it over itself once or twice. Form the dough into a ball and place in a well oiled bowl. Turn the dough to coat all sides with oil and cover with plastic wrap or damp towel. Place in a warm draft free spot (an unheated oven or microwave work great) and allow to rise until doubled in size, at least 60 minutes (may rest for a couple hours if desired).

Coat a sheet pan with a little olive oil and sprinkle with corn meal. Turn dough out onto the counter and stretch it out into an oblong shape about 1/2-3/4 inch thick. Lay flattened dough on the prepared pan and cover with plastic wrap or damp towel and allow to rest for 15 minutes.

While it is resting, heat 2 teaspoons of olive oil in a medium skillet, add the onion, and cook over low heat for 15 minutes until the onions caramelize. Preheat oven to 400 degrees F. Uncover the dough and make impressions with your fingertips giving it that classic "dimpled" look of focaccia. Brush the surface with additional olive oil and then add caramelized onions, garlic, salt, and pepper. Bake on lower rack for 20-35 minutes or until dough is cooked through and beginning to golden on top.