Wednesday, August 14, 2013
Easy Garlic & Olive Dip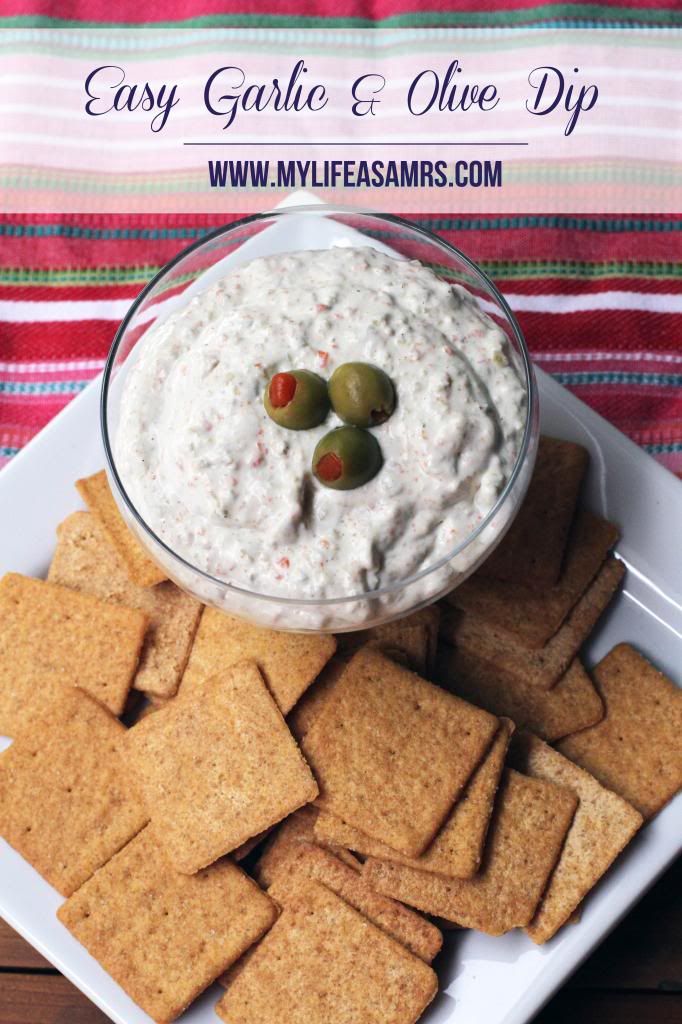 Ya'll it is SO H.O.T. right now.
Florida heat + pregnancy + an old A/C on the Fritz = me in the pool (ALL. THE. TIME.)
I think I would die if we didn't have a pool at the new house. But seriously.
Anyhow, I have been so hesitant to cook anything that isn't on the grill because, well, that daggum oven heats up my kitchen and makes me a VERY cranky pregnant woman!
My poor husband.
When I entertain at our house, I'm apt to make a few appetizers that typically require the oven. Well my usual go-to's: Pecan, Brown Sugar, and Kahlua Baked Brie or Easy Cheesy Bean Dip aren't really an option right now! I weigh out their excellence with the 5 degrees my house temperature will rise to (and stay at) and well, hormonal Tina votes for the cooler temperature! 😉
So we press on and go back to no-bake goodies like: Caprese Bruschetta, Olive Tape;ade, and Hummus.
And now this EASY garlic olive cream cheese dip. Seriously, you won't believe how few ingredients go into this: cream cheese, grated garlic, pimento stuffed olives & juice, and pepper. Give it a whirl in the food processor and badda bing badda boom you've got yourself an appetizer!!
Beat the heat & stay cool, people!
You'll find me in my pool for the next 3 months… 😉

Easy Garlic & Olive Dip

Prep Time: 5-10 minutes

Total Time: 5-10 minutes

Ingredients:

8 ounces 1/3 less fat cream cheese (can use full fat if desired), softened
1/2 cup pimento stuffed green olives
1 teaspoon olive juice
1-2 cloves garlic grated (I used 2 because I love me some garlic!)
cracked black pepper to taste

Directions:

Add ingredients to mini food processor and pulse until well combined (scrape the sides down as needed). Serve with crackers of choice (Wheat Thins go great with this!) and/or veggie sticks.